My demise from the band was simply because
I was married
07:57-10:36 字幕03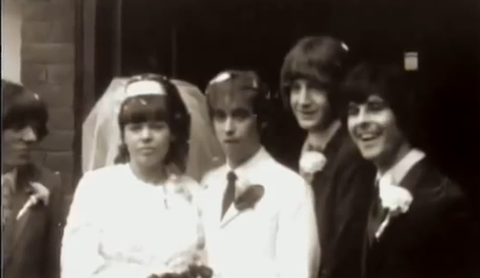 [Narrator] Pete was writing about his life and the way the world was changing around him. Knocking Down Our Home was his response to the urban redevelopment of his hometown of Swansea.
#knocking down our home
[Narrator] The song was one of several demos Bill Collins sent to the Beatles' record company, Apple. Paul McCartney heard it and loved it. And The Iveys became the first band signed to Apple.
#knocking down our home
[Ron] I suppose you could say it was like all our Christmases coming at once. Of all the labels to get offered a record deal with, Apple. Come on!
#storm in a teacup
[Narrator] By the late '60s, music and fashion were changing and Apple felt the band needed a make over, so The Iveys became Badfinger, named after a Beatles song, Badfinger Boogie. To help them along, Paul McCartney gave them a song he'd written for a film called The Magic Christian.
#come and get it
[Narrator] Next thing they knew, they had a top five hit single and were Top Of The Pops.
#come and get it
[Dan Matovina] Come And Get It on Top Of The Pops, I think that was the peak time for Pete and the rest of the members, the smile, the excitement is written all over their faces. It is pure ecstasy.
#come and get it
[Narrator] But one person didn't make it to Top Of The Pops. Ron Griffiths, who had been with the band from the start and played on Come And Get It, was replaced by Joey Molland.
#come and get it
[Ron] My demise from the band was simply because I was married and it went against the grain. My little boy Jason was in the house, Tommy would put his stereo on in the early hours of the morning and wake the baby up.
#come and get it
[Ron] Maureen, my wife, obviously wasn't best pleased because the baby was being woken up and it seemed as if I was being edged out. I wasn't happy about going, certainly I wasn't. I came up to live in Hemel Hempstead and ended up doing a production line job at a farm in Hemel, driving to work on a push-bike, 6-2 and 2-10 shift while Come And Get It was in the charts.
#come and get it
★★