So excited! Just decided to book this 7-Night Music Cruise for February 16, 2019. Who wants to join me? The musical bands include Paul's Revere Raiders, Peter Rivera (Original Singer Rare Earth),
Joey Molland's Badfinger
, The Buckinghams, Gary Lewis & The Playboys, 1910 FruitGum Company and Danny & The Juniors. Call Colleen to get information and pricing at 855-682-2482. Very limited space left.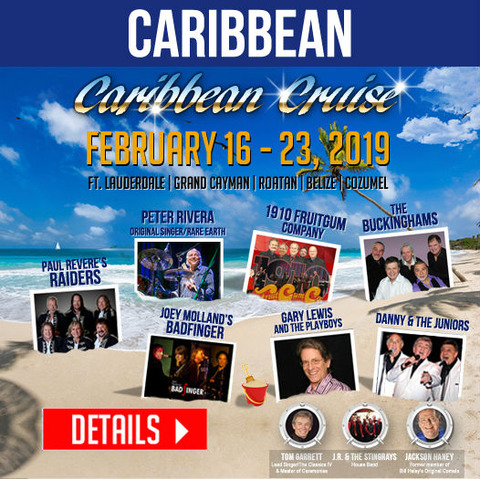 February 16 to 23, 2019
Cozimel, Belize, Honduras
Where The Action is Cruise with
Paul Revere's Raiders,
Gary Lewis & The Playboys,
Joey Molland's Badfinger
,
Peter Rivera (Original singer Rare Earth),
The Buckinghams,
Danny & The Juniors,
Tom Garrett, Jackson Haney &
J.R. & The Stingrays
★★★