Badfinger's
Joey Molland to host True Brit!
[2013-02-16]
よくある、ゲスト出演でインタビューを受けるというのとは違い、Joey が子供の頃聴いていた曲や好きな曲・影響を受けた曲などを自身がDJとして選曲し語る2時間番組。
Featured on KFAI 90.3 FM Minneapolis and 106.7 FM St. Paul - True Brit! is a weekly radio show playing the best of British music, past present and future. Hosted by Simon Husbands, the show goes out live every Friday night at midnight! This particular show features guest host, Joey Molland, from the band Badfinger.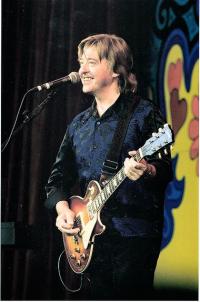 This week's True Brit! radio show will be hosted by Mr. Joey Molland from the legendary band, Badfinger. Joey will be playing his favorite tunes and telling stories of his amazing career, ranging from his experiences with Badfinger, Apple and the Beatles, to current day activities, including his various solo projects. Join DJ Joey on Friday night at midnight for this special True Brit! one-of-a-kind radio experience!
★★