Badfinger's
Joey Molland on True Brit!
[2011-10-29]
Featured on KFAI 90.3 FM Minneapolis and 106.7 FM St. Paul - True Brit! is a weekly radio show playing the best of British music, past present and future. Hosted by Simon Husbands, the show goes out live every Friday night at midnight! This particular show features an interview with Joey Molland from the band Badfinger.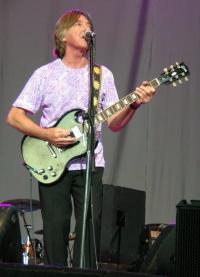 On Friday night at midnight, True Brit! will play host to Joey Molland of the legendary band Badfinger! Badfinger had four consecutive worldwide hits in 1970 and 1971: "Come and Get It" (written and produced by Paul McCartney), "No Matter What", "Day After Day", and "Baby Blue".
Joey will be in the studio with your host Simon Husbands, and will be talking about his experiences from his early days playing music in Liverpool, to recording on the Beatle's Apple Records and much more. He'll also be performing some live music! Join us at midnight on Friday on True Brit!
★★