TracksAuctions
Beatles and Rock 'n Roll Memorabilia Auction. November 2014 (#2) 24/11/2014 2:00 PM GMT CLOSED!

Lot 98 John Lennon Tittenhurst Park Telephone and Address Book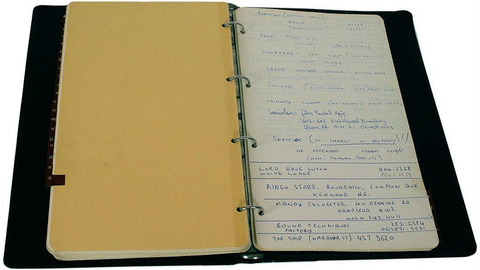 A large hard cover spiral bound telephone and address book which was formerly used in John Lennon's Tittenhurst Park home. John and Yoko lived at Tittenhurst Park between August 1969 and August 1971. Their home and recording studio became the centre of John and Yoko's working life.

Many of the couple's work-related activities and functions previously carried out at the Apple office in Savile Row were now performed at Tittenhurst Park.
This fascinating book that is alphabetically indexed contains numerous entries some of which are detailed below:

A) Apple, Les Anthony, Alexis Mardas, AIR Studios, A&M Records, Ardent Studios and Apple Offices.
B) BIBA, Ginger Baker and
Badfinger
.
C) Eric Clapton, Chas Chandler and Petula Clark.
D) Malcolm Davies.
E) E.M.I. Studios, Mal Evans, Kenny Everett and Geoff Emerick.
F) Anthony Fawcett and David Frost.
H) George Harrison.
I) Island Studios, I.B.C. Studios.
K) Allen Klein, Krishna Temple and Alexis Korner.
L) Donovan Leitch.
M) Marquee Studios and McCartney Productions.
O) Setsuko Ono (Yoko's sister) and Olympic Studios.
P) John Peel and Mike Pinder.
R) Rolling Stones Office and Dan Richter.
S) George Harrison has handwritten an entry that reads 'Samuelson's film Rental Eqip, 303 – 305 Crinclewood Broadway, Elware Road. NW2 01-452-0123', Lord Dave Sutch and Ringo Starr.
T) Derek Taylor, Trident Studios and Pete Townsend.
V) Klaus Voorman.

The book comes from the collection of former E.M.I. Studios and Apple Studios engineer Claude Harper. Claude has added a number of the addresses and telephone numbers into the book.
It measures 25.5cm x 37.5cm (10 inches x 14.75 inches). The condition of the book is very good.

Lot closed:23 Nov 2014 14:00 GMT
Estimate:1,000 GBP - 2,000 GBP
Winning bid:2,400 GBP


★★★