Hello, folks

April 25, 2016
https://www.facebook.com/groups/2211874004/permalink/10153735366964005/
At last I am able to showcase more of the legacy of The Iveys - the band I was in with Pete Ham, Mike Gibbins, Tom Evans and David Jenkins and partake in the fruits of our work with the first release from my new venture "RL Griffiths Presents".
I don't want to reiterate the past sleights and financial issues now. I just want to thank all who helped and have allowed me get to this point. And now I am able to have some of our rarer music out there for all of you toenjoy.
My first release is a CD called The Iveys Anthology - Vol. 1, Live at Thingamajig Club, Reading U.K. - September 6, 1968.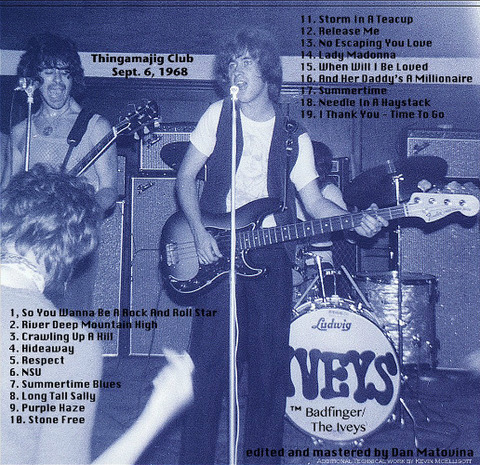 I hope you enjoy this set, which was cleaned up and edited by Dan Matovina with help from Kevin McElligott. Because I do not have the facility to distribute myself : to avoid over-manufacture there will be limited edition releases that are distributed by Dan from the U.S. I can not enter into this complicated business aspect with my life as it is, so I appreciate his help in doing so.
There may be two limited CD editions. The first is to test the waters of interest and if that sells out, there will be one other limited edition extension of the CDs. Otherwise, downloads should be available.
Tieing into a Pete Ham tribute event being held today in Los Angeles, April 24th, I've allowed that some CDs be sold to bolster this event.
To start, there will be email offers sent out based a list of past Badfinger/The Iveys die-hard fans who will get exclusive first opportunity to order. Mailing will not commence until second week of May. I'll post the official start date of that and when a link on the FACEBOOK pages are available for ordering, plus any download opportunities.
This is my special treat for all of you who have stuck around and supported me over the years. I am forever indebted.
Yours truly, Ron G .


The Iveys - Crawling Up A Hill (September 6, 1968 at Thingamajig Club, Reading, England)
Pete Ham - lead guitar, Mike Gibbins - drums, Ron Griffiths - bass, lead vocal Tom Evans - rhythm guitar

The Iveys - Long Tall Sally (September 6, 1968 at Thingamajig Club, Reading, England)
Pete Ham - lead guitar. background vocal, Mike Gibbins - drums, Ron Griffiths - bass, background vocal Tom Evans - lead vocal, rhythm guitar
★
[CD 2019] Origins: The Iveys Anthology Vol. 2 - Live at Thingamajig Club September 6, 1968 Reading, England (Nov 13, 2019)
★
[May 2016] The Iveys Anthology - Vol. 1 (September 6, 1968)
★
[Bootleg] The Iveys / Live In Concert