No Matter What a tribute to the music of Badfinger (
April 30
, 2016)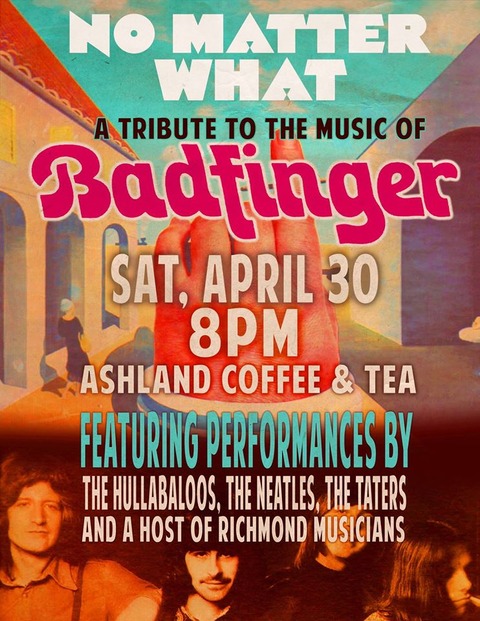 Brooke Saunders
, who is organizing the tribute show, met
Mike Gibbins
, the drummer for Badfinger, while traveling in 1977.
"I was in England for a family reunion and afterwards went to Swansea, Wales, and met
Pete Ham
's brother, John, and Mike Gibbins," says Saunders.
"I spent a week there getting to know Mike and various people associated with
Badfinger
. Mike gave me a quarter-inch tape of their last, unreleased album, "
Head First
," and five rare photographs."
"One of my best moments was strumming a few chords on Pete's guitars," adds Saunders. "His iconic SG – was given to him by George Harrison, who had used it on Revolver, plus John Lennon played it on The White Album.
Mike and I kept in touch for a while, and I was eventually able to meet
Tom Evans
and
Joey Molland
, who has played in Richmond on occasion."
The show will include nearly 30 Badfinger songs, plus other tunes from Beatles solo projects on which band members played, including "My Sweet Lord" and "It Don't Come Easy."
The Taters - Without You (April 30, 2016)
The Taters - Day After Day (April 30, 2016)
The Taters - Blodwyn (April 30, 2016)
The Taters - Better Days (April 30, 2016)
The Taters - Suitcase (April 30, 2016)
The Taters - Lay Me Down (April 30, 2016)
The Taters - We're for the Dark (April 30, 2016)
The Taters - I Can't Take It (April 30, 2016)
The Taters - Hold On (April 30, 2016)
The Neatles - Just A Chance (April 30, 2016)
The Neatles - Timeless (April 30, 2016)
The Neatles - My Sweet Lord (April 30, 2016)
The Neatles - Here Comes the Sun (April 30, 2016)
The Neatles - Name of the Game (April 30, 2016)
The Neatles - I'd Die Babe (April 30, 2016)
The Neatles - Those Were the Days (April 30, 2016)
The Hullabaloos - Maybe Tomorrow (April 30, 2016)
The Hullabaloos - Love is Gonna Come at Last (April 30, 2016)
The Hullabaloos - Apple of My Eye (April 30, 2016)
The Hullabaloos - Baby Blue (April 30, 2016)
The Hullabaloos - Lonely You (April 30, 2016)
The Hullabaloos - I'll Be The One (April 30, 2016)
The Hullabaloos - Makes Me Feel Good (April 30, 2016)
The Hullabaloos - Just Believe (An original by Rolfe Trimble and Harry Gore inspired by Badfinger, April 30, 2016)
★
promoting No Matter What: A Tribute to Badfinger WRIR 97.3FM (Apr 17, 2016)
★
The Neatles at a Tribute to the Music of Badfinger (Apr 30, 2016)