Hello, everyone - Ron Griffiths here:
May 6, 2016 https://www.facebook.com/groups/Badfinger.TheIveys/permalink/1803637209866573/
May 8, 2016 https://www.facebook.com/groups/2211874004/permalink/10153762631929005/

Regarding the Iveys live in Reading U.K. 1968 on CD, which I fortunately can finally make available for you. Again, I feel so grateful to be able to share any of the legacy of Badfinger/The Iveys from the 60s era. Thank you for anyone supporting this endeavour and I hope you enjoy the music.
The pre-ordering will start very soon, but I need to state that the actual shipping won't start until the end of June. There are still some things for me to get in order and I need a little more time than I originally thought.
Yes, some of you who have shown interest in this will get a private email as how to order just before the announcements on FACEBOOK.
As I've stated, this will be a limited edition project on CD because I don't want lots of stock sitting around for years to come. There will be downloads available, too, and those will come out at the same time.
But, be aware, the CDs could sell out so some of you may not get a CD copy. CD's will be first ordered, first served. There will be a limit of three CDs per customer.
Watch out on these sites for my PayPal address for ordering. Payment will simply be processed that way as of now, though other alternatives may be offered in the future.
Please, be patient with the mailing on this project, too ..... every effort will be made to get them out promptly.
Let's make these projects fun and keep it positive for me. I can't wait for your feedback.
Cheers for now Ron.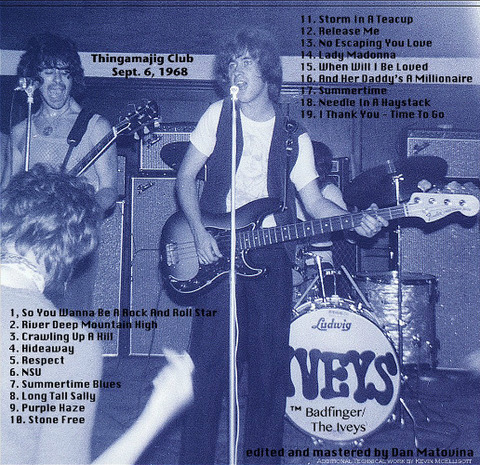 The Iveys - Purple Haze (September 6, 1968 at Thingamajig Club, Reading, England)
Pete Ham - lead guitar, Mike Gibbins - drums, Ron Griffiths - bass, lead vocal, Tom Evans - rhythm guitar




★ [CD 2019] Origins: The Iveys Anthology Vol. 2 - Live at Thingamajig Club September 6, 1968 Reading, England (Nov 13, 2019)

★ [April 2016] The Iveys Anthology - Vol. 1, Live at Thingamajig Club, Reading U.K. - September 6, 1968


★ [Bootleg] The Iveys / Live In Concert