http://www.ebay.com/itm/112100657101
http://www.ebay.com/itm/112142980773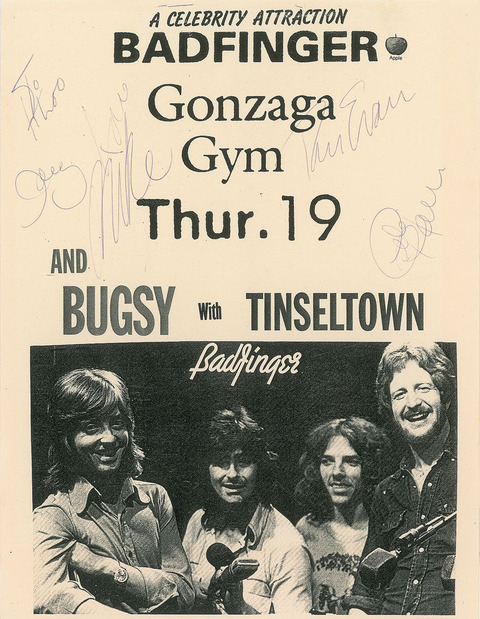 Badfinger Autographs Signed Concert Flyer / Poster with PSA/DNA Full COA
Price:US $1,599.99 売れず
その後値下げ $1,299.99 売れず
再度値下げ $1,099.99 売れず
また値下げ $999.99
2017年3月現在 $699.99 で売り出し中


これ、2016年8月に RR Auction で $584.33で落札されたもの。
http://www.rrauction.com/PastAuctionItem/3361970

August 2016 Fine Autographs And Artifacts Auction (July 22 - August 10)
#572 Badfinger
Concert flyer for a Badfinger performance at the Gonzaga gym, 8.5 x 11, listing Bugsy and Tinseltown as supporting acts, signed and inscribed in black ballpoint by Pete Ham, Joey Molland, Tom Evans, and Mike Gibbins. In fine condition.
Minimum Bid:
$200.00
Estimated At:400.00 - 600.00 USD
Sold Price:
$584.33
それ以前にも、2012年に eBay に出品されていたみたいなので、転売、転売なのか?
http://www.worthpoint.com/worthopedia/badfinger-signed-autograph-concert-51656323
BADFINGER signed concert flyer from 1974? Signed by all 4 members Pete Ham, Tom Evans, Mike Gibbins, Joey Molland. Full sets with Pete and Tom are hard to come by. They have signed on a concert flyer for a show at Gonzaga Gym. Since I assume this was posted all over campus no month is listed, but judging from Pete's beard it was after the time of the release of Ass (November 1973) since the photo is also the shot on the back of the Ass LP.
It is personalized, perhaps to a radio station named WHOO or something like that. Comes in an 12 x 16 anodized aluminum frame. (It was taped to the mat, I have carefully removed it and there are no tears, but there is some tape left on back of flyer).
★
★