The Hollies & Badfinger Australian Tour 2009 Concert Flyer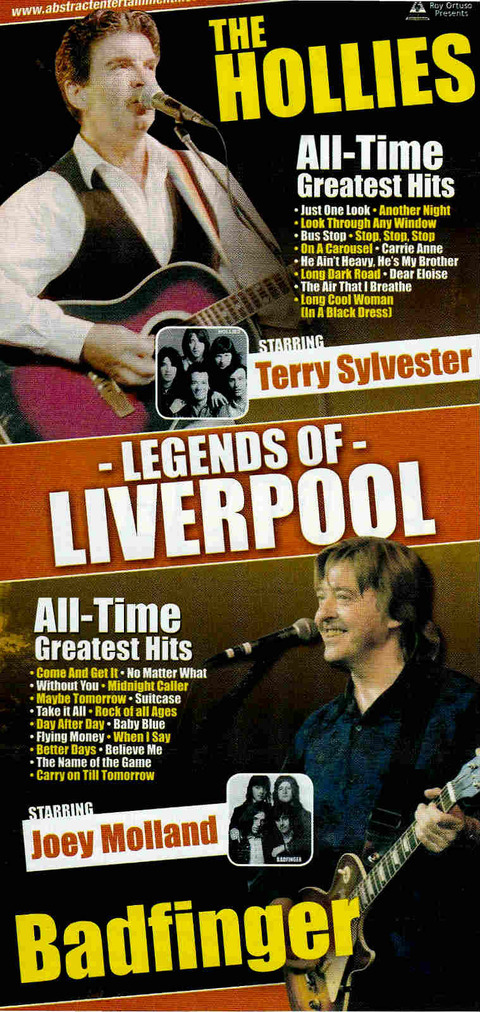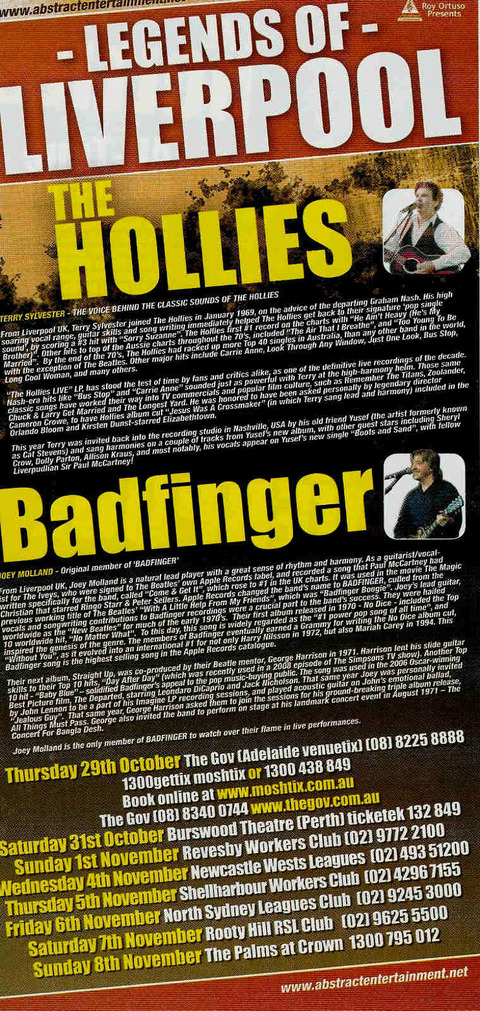 JOEY MOLLAND - Original member of 'BADFINGER'
From Liverpool UK, Joey Molland is a natural lead player with a great sense of rhythm and harmony. As a guitarist/vocalist for The Iveys, who were signed to The Beatles' own Apple Records label, and recorded a song that Paul McCartney had written specifically for the band, called "Come & Get It", which rose to #1 in the UK charts. It was used in the movie The Magic Christian that starred Ringo Starr & Peter Sellers. Apple Records changed the band's name to BADFINGER, culled from the previous working title of The Beatles' "With A Little Help From My Friends", which was "Badfinger Boogie". Joey's lead guitar, vocals and songwriting contributions to Badfinger recordings were a crucial part to the band's success. They were hailed worldwide as the "New Beatles" for much of the early 1970's. Their first album released in 1970 - No Dice - included the Top 10 worldwide hit, "No Matter What". To this day, this song is widely regarded as the "#1 power pop song of all time", and inspired the genesis of the genre. The members of Badfinger eventually earned a Grammy for writing the No Dice album cut, "Without You", as it evolved into an international #1 for not only Harry Nilsson in 1972, but also Mariah Carey in 1994. This Badfinger song is the highest selling song in the Apple Records catalogue.

Their next album, Straight Up, was co-produced by their Beatle mentor, George Harrison in 1971. Harrison lent his slide guitar skills to their Top 10 hits, "Day After Day" (which was recently used in a 2008 episode of The Simpsons TV show). Another Top 10 hit - "Baby Blue" – solidified Badfinger's appeal to the pop music-buying public. The song was used in the 2006 Oscar-winning Best Picture film, The Departed, starring Leondaro DiCaprio and Jack Nicholson. That same year Joey was personally invited by John Lennon to be a part of his Imagine LP recording sessions, and played acoustic guitar on John's emotional ballad, "Jealous Guy". That same year, George Harrison asked them to join the sessions for his ground-breaking triple album release, All Things Must Pass. George also invited the band to perform on stage at his landmark concert event in August 1971 – The Concert For Bangla Desh.

Joey Molland is the only member of BADFINGER to watch over their flame in live performances.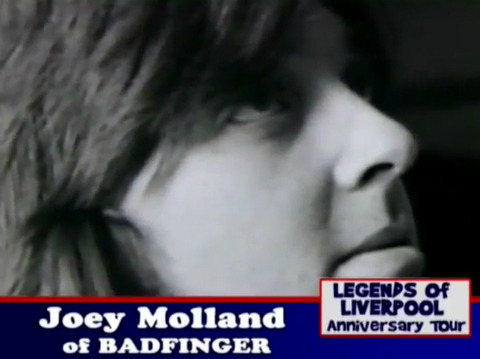 写真あり
http://fasterlouder.junkee.com/badfinger-the-hollies/352609
Joey Molland of Badfinger - Baby Blue (Nov 7, 2009 at Rooty Hill RSL Club)
Joey Molland of Badfinger - I Don't Mind (Nov 7, 2009)
Joey Molland of Badfinger - Come and Get It (Nov 7, 2009)
Paul Davie
(kb/guitar/vocals) and
Mark Dawson
(bass/vocals)
★
★
★