Dixon Evening Telegraph (September 29, 1970) [Dixon, Illinois]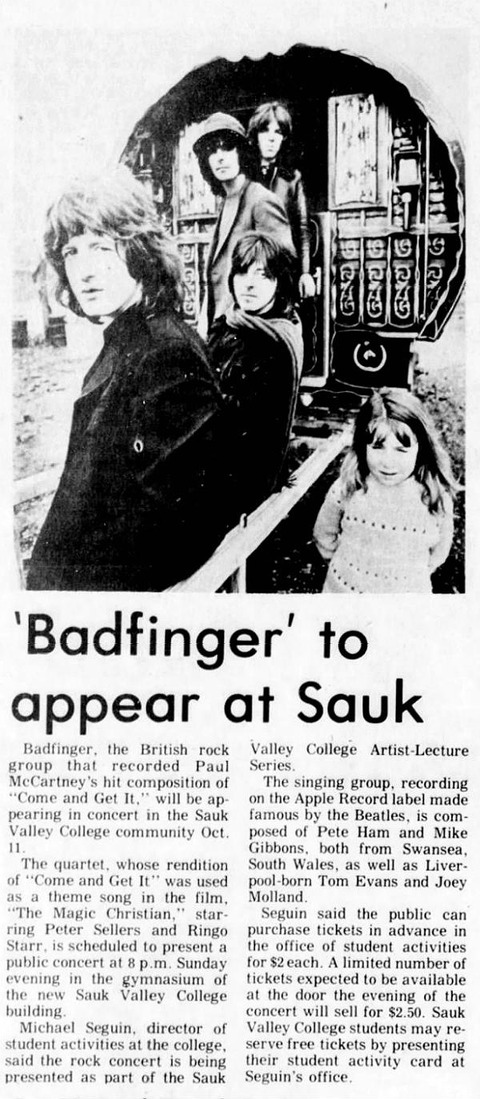 Dixon Evening Telegraph (October 6, 1970)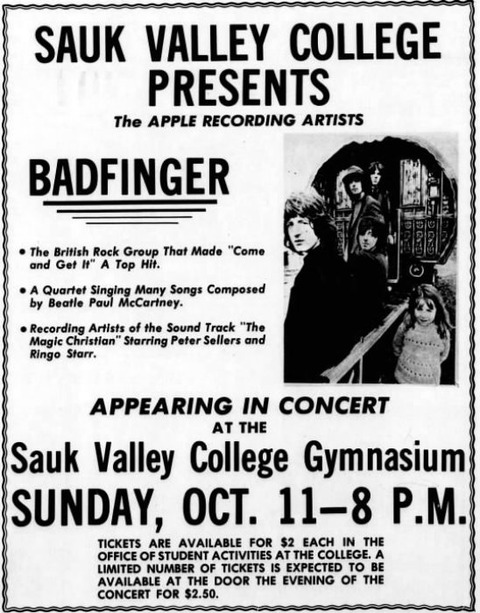 Dixon Evening Telegraph (October 10, 1970)
DENNY BROOKS
California Folk Singer Denny Brooks will be joining the British Rock Group, Badfinger, in concert at 8 p.m. on Sunday in the Sauk Valley College gymnasium. Brooks, a folk and ballad singer who formerly sang with The Back Porch Majority, will be featured with the British group in the first concert in the college's 1970-71 Artist Lecture Series. Brooks has appeared in night clubs, in concert on many college campuses and on such national television shows as Hollywood Palace, the Mike Douglas Show and the Johnny Carson Show.
Badfinger, his companions for the performance, are perhaps best known for their recording of former Beatle Paul McCartney's hit composition entitled "Come and Get It." The quartet also recorded the musical theme for the film, "The Magic Christian," starring Peter Sellers and Ringo Starr.
Michael Seguin, director of student activities at the college, said a limited number of tickets are expected to be available at the door the evening of the concert. They will be sold for $2.50 per person.
Sauk Valley College Gymnasium, Dixon, Illinois (Oct 11, 1970)
Badfinger, Denny Brooks
★★★