Jen Selinsky
/ Baby Blue: Poems Inspired by Badfinger (May 21, 2017)
"Baby Blue: Poems Inspired by Badfinger" contains poems which Jen wrote while listening to the band. Jen has been a fan of Badfinger since 2009.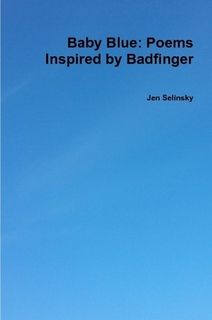 ISBN 9781365981784
Copyright Jen Selinsky (Standard Copyright License)
Published May 21, 2017
Price $6.00
Language English
Pages 70
Words 3,160
Binding Perfect-bound Paperback
Interior Ink Black & white
Weight 0.34 lbs.
Dimensions 6 wide x 9 tall (inches)