Badfinger / Brassy's Night Club in Cocoa Beach, Fl (February 6, 1983)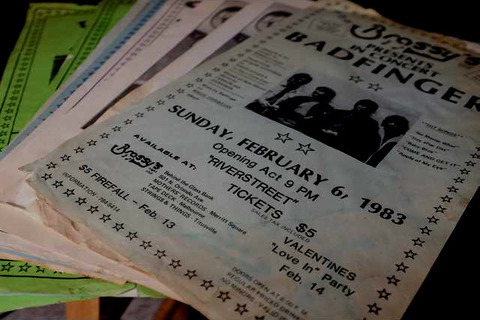 Joey Molland (g), Rick Reid (b), Adrian Russell (k), Steve Craiter (d)
opening band,
Riverstreet
-----------------------------------------------------------------------------------
The News Journal (Friday, December 31, 1982) Wilmington, Delaware
Remember the songs "No Matter What," "Come and Get It" and the soundtrack from the Ringo Starr-Peter Sellers movie "The Magic Christian"? Then you remember the group Badfinger.
Badfinger dissolved amidst a snarl of red tape and legal hassles following Pete Ham's suicide in 1975. Since then, the band has sputtered but failed to get started again.
That band had original Badfinger bass player Tommy Evans and drummer Mike Gibbins. That was the end of their rather short tour, according to Reid, and Evans and Gibbins have since had a split and Evans returned to England.


Until now. After a month of practice at a location in the New Castle area, Badfinger is back with a Delaware lad on board. Bass man Rick Reid of Wilmington, who has played with several area bands (the Voltags, the Snaps and Rockochet), will be joining original Badfinger member Joey Molland and two other musicians on the group's newest tour.
Reid has paid his dues on the club circuit and was enthusiastic about going out on tour prior to leaving Thursday afternoon. "Joey will be on guitar and lead vocals, Steve Craiter, who has been associated with Badfinger for 10 years I guess you could call him a Badfinger -- will be on drums and vocals, Adrian Russell will be on keyboards and vocals and I'll be playing bass and singing, too," he said over the phone.


"Everything's crazy right now. We're trying to get all the equipment together before the trucks roll in and Joey just got in late last night after being snowed in at the airport in Minnesota. But we're ready."
Reid has promised to keep fellow Delawareans posted on the tour's progress. The Rogers Agency in Atlanta, Ga., is booking the six-week tour through the southeastern part of the country.
"This is the Badfinger now," said Reid. "Joey has legal rights to use the name."
Molland says the band will be playing a lot of original material. "We'll be doing 14 or 15 of my songs. The drummer's got a song, the pianist has a couple. We'll do a couple of old favorites like 'Sweet Little Rock 'n' Roller.' It's not going to be a cover act," he promised.


"After this tour, we'll have three weeks off, then we head out West," Molland added. "The tour will probably last into March or April."


"They'll be playing all the major cities Atlanta, Mobile, Ala., Miami, Charleston, S.C., before wrapping it up in early February," said booking agent Michael Davis. How did all this come about?
If you stopped in on any Saturday jam sessions at Reflections in Possum Park Mall on Kirkwood Highway during November, you might have gotten a clue what was up. Molland came to New Castle to visit some friends. He got together with a couple of musicians, including Craiter and Russell, and organized a band to be called Joey Molland and the Spare Parts. He spent a couple of afternoons in Reflections trying out his new tunes on the crowd.


"I just came back from England," Molland explained. "I'm still trying to straighten out a lawsuit from the old days I've got a lot of money tied up in it. I live here now in the U.S., I'm married and my family is in Minnesota. I'm making my home here for now because I've been rehearsing here, getting ready to go on tour."
★
[Newspaper] The Pacer (January 20, 1983)