The Complete 1971 Album and more!
Badfinger's ''Straight Up'' featuring Joey Molland (July 3, 2017)
Sellersville Theater, Sellersville, PA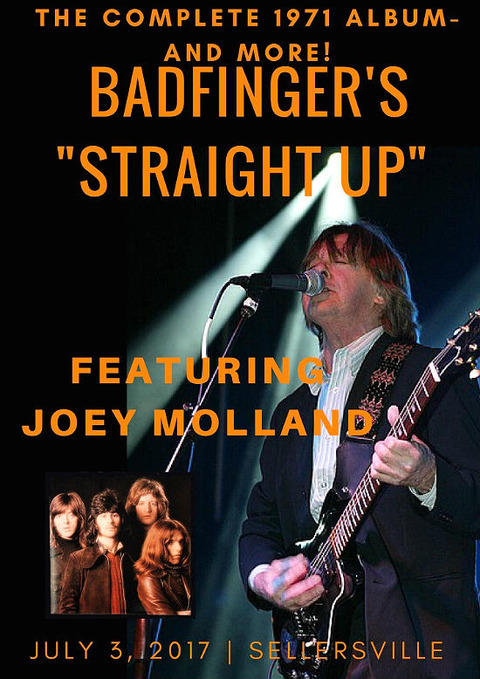 It's the 45th anniversary of the greatest album by Badfinger, 1972's Straight Up, and the band's legendary guitarist, songwriter, and vocalist Joey Molland –along with his dynamic band–brings the album to the stage in a bracing live show. Featuring 5 tracks written by Joey.
x. TakeIt All
2. Baby Blue
3/4. Money / Flying
x. I'd Die Babe
x. Name of the Game
x. Suitcase
8. Sweet Tuesday Morning
9. Day After Day
10. Sometimes
11. Perfection
12. It's Over (Erik Paparozzi vo,b)
x. No More
14. Without You
15. I Got You
16. No Matter What
17. Come and Get It
★
Badfinger's Straight Up starring Joey Molland (Nov 12, 2017)
★
Newton Theater, Newton, NJ (November 11, 2017)
★
Greenwich Odeum, East Greenwich, RI (November 9, 2017)
★
The Regent Theater, Arlington, MA (November 3, 2017)
★
Dakota Jazz Club & Restaurant, Minneapolis, MN (October 23, 24 2017)
★
Birchmere Music Hall, Alexandria, VA (June 28, 2017)
★
Capitol Center for the Arts, Concord, NH (April 30, 2017)