BAD FINGER to BAD COMPANY


1st Dec 2017 - 17th Dec 2017
Rhumbelow DBN
Starring
The Reals - Barry Thomson
(
guitar/vocals
)
, Dawn Selby
(
musical director and keyboards/vocals
)
, Mali Sewell
(
drums/vocals
)
, Jason Andrew
(
bass/vocals
)
& Guest Guitarist Shaun Dragt.
Experience our exciting new show concept of featuring two iconic bands, Bad Finger and Bad Company. Enjoy and evening of classic rock songs and discover the reasons behind some of their compositions.
Act I intertwines the connection between Bad Finger and Apple Records, a record label owned by The Beatles. They were supposed to be the next Beatles but a series of tragedies, mismanagement and 'rock and roll rip-offs' left Badfinger little more than a sad footnote in musical history. The show features Apple affiliated artistes including The Beatles and James Taylor. Badfinger, originally known as the Iveys signed to Apple after several demo tapes received approval from The Beatles. They had top 10 hits in the UK and US, including the song composed by Paul McCartney, 'Come and Get It'. The show includes hit songs including 'Come And Get It', 'No Matter What', 'Day After Day', 'Apple Of My Eye', 'Baby Blue', 'Midnight Caller' and 'Take It All'.
Act II features the classic rock songs of Bad Company, including 'Bad Company', 'Can't Get Enough', 'Feel Like Making Love', 'Good Lovin' Gone Bad', 'Movin' On', 'Shooting Star', 'Run With The Pack' and 'Rock 'n Roll Fantasy'. Bad Company enjoyed great success throughout the 70s with their first three albums reaching the top five in the album charts in both the UK and US. Bad Company consisted of four seasoned musicians including two former members of Free, singer Paul Rodgers and drummer Simon Kirke, former Mott the Hoople guitarist Mick Ralphs and ex-King Crimson bassist Boz Burrell.
The Reals, with Durban favourites Dawn Selby as Musical Director on the keyboard, Barry Thomson on the guitar/vocals, Jason Andrew on bass guitar/vocals and Mali Sewell on drums/vocals, present an evening of good rocking classics. Included in the line-up is guest guitarist Shaun Dragt.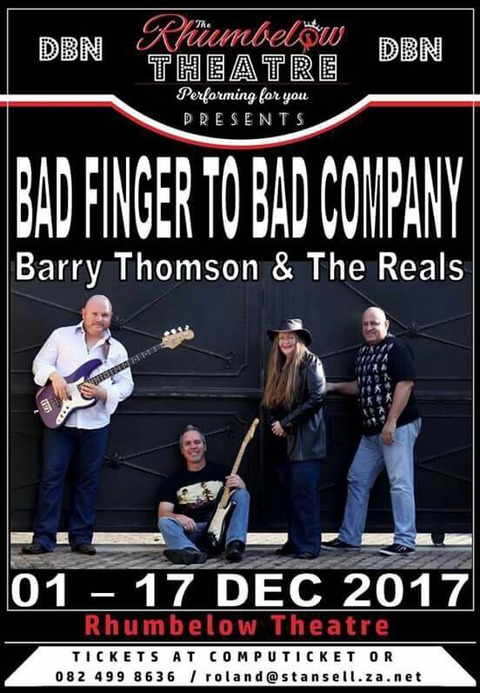 ★★★