[
eBay
][
eBay
][
eBay
] Badfinger Reel to Reel Tape of Last Album Head First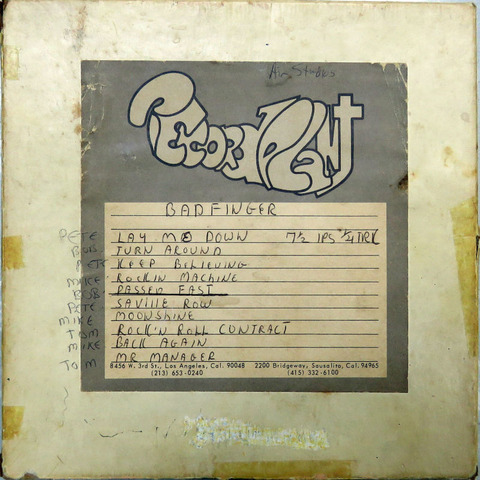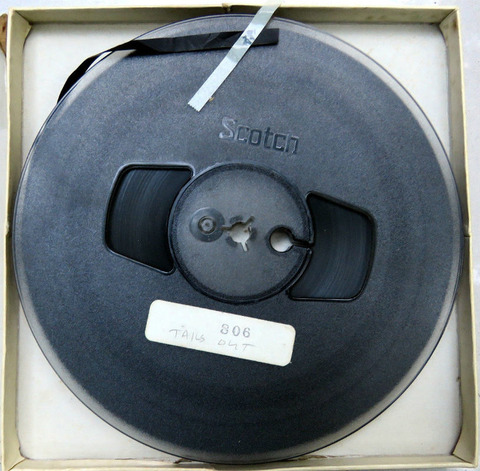 Badfinger Demo Reel to Reel Tape of Last Album "Head First" Extremely Rare
Very, very rare copy of Badfinger's last album "Head First" on a reel to reel half-track demo tape given to management and band members only in 1975, recorded at 3 Savile Row Apple Studio in December 1974, in London, England. I do not own copyrights and it should not be bootlegged.
It was mixed at the Record Plant in California by Kiss producers Kerner and Wise, and only a handful of copies were made. I have never seen another one, much less one for sale.
The tape was given to me in late June, 1977
. I was already in England for a family reunion, and traveled to Swansea to search out them out, they were one of my favorite groups. I got to meet Pete Ham's brother, John, who introduced me to Mike Gibbins, and we got together several times at his flat and other places in Swansea.
This tape has nine songs on it, and though Mike wrote down ten titles on the cover, one of his own songs is missing from the lineup. It is a Sony brand tape, or at least the reel says so, in a Record Plant box, and contains one of several mixes of their last album, "Head First." Joining Pete Ham, Tom Evans, and Mike Gibbins to make this recording was English musician and songwriter, Bob Jackson, who had just replaced Joey Molland, and contributed songs for the recording session. It was rush-recorded from December 1-14, in 1974.
Mike said he liked this mix better than some of the others he had heard, and told me to share it, because it would likely never come out, due to the legal complications. But he also joked also not to bootleg it, of course, and as instructed, I did make copies from time to time to give to Badfinger fans I ran into.
He was right about the release being problematic, it was star-crossed with a complicated history, and it would be advisable to consult Wikipedia for the complete story. Most of the songs did come out later at various times in various guises in limited releases, and always under a legal cloud.
The box is a bit banged up, but it has only been played a couple of times. I wrote A.I.R. on the box for some reason, because Mike Gibbins mentioned A.I.R Studio when he gave it to me, that is the famous London studio owned by George Martin at the time. But it was not recorded there or mixed there, according to research, and I don't know why I put it on the box.
The masters were sent out to the San Francisco location of Record Plant to be mixed down. But then Warner Brothers rejected the album because there were missing funds, due to fraud by Badfinger manager, Stan Polley. To add insult to injury, the master tapes were lost over time.
Rolling Stone magazine called it one of the greatest lost rock masterpieces of all time, and the evidence is in the extraordinary and haunting music, excellent songwriting, and harmonies unequaled in music history.
★
No Matter What a tribute to the music of Badfinger (Apr 30, 2016)
★
[お便りコーナー 4] スウォンジー、1977年6月