Hartford Courant [Hartford, Connecticut]
March 22, 1981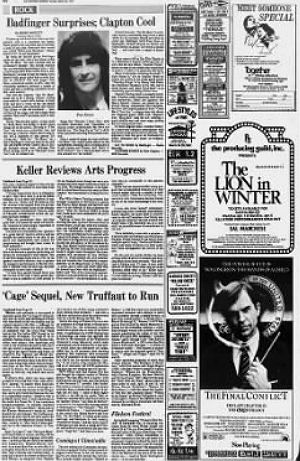 Badfinger Surprises
by Henry McNulty Courant Rock Critic
Say No More by Badfinger --- Radio Records

Washed-up rock bands that make one last, pathetic stab at a comeback are legion. Some people even turn their tale of woe into a kind of sick joke; Donovan's last record was called "Well-known Has-been." (Never heard of it? I'm not surprised.)
So when the British group Badfinger came out last week with a new album called "Say No More," the first reaction was an involuntary shudder. The second reaction was an overwhelming feeling of pity - that a once-respectable band could come to this. Badfinger, you may or may not recall, was a Beatle clone group which had exactly four .hits in 1970-1972. The lead singer, Pete Ham, committed suicide in 1975, and two remaining members surfaced a couple of years ago with a middling comeback record that went nowhere.
And now the surprise: "Say No More" turns out to be a strong, vibrant, rousing rock-and-roll record with dozens of tasty licks and nary a trace of the old Beatle sound. Guitarist Joey Molland and bassist Tom Evans - the old members - have written all the songs, and lead a tight little quintet. They aren't has-beens, they're hell-raisers.
Lively '50s-oriented guitar, owing much to Chuck Berry but hardly a ripoff, starts things off on the record. The song is "I Got You," the vocals are a controlled roar, and the energy is intense. (Short, direct song titles are a hallmark of this punchy LP: "Come On," "Hold On," "No More," etc.) Since Badfinger's roots go back to the mid-'60s and maybe further; there's lots of British Invasion energy here, although New Wave stylings (such as on "Because I Love You") are in evidence too.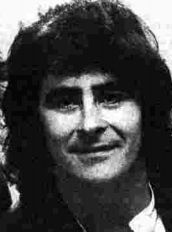 Tom Evans
Songs like "Because I Love You," with excellent harmonies, and "Crocadillo," a stormy rouser, predominate. But there are ballads too: "Too Hung Up on You" is skillfully assembled and sung with genuine emotion.

Only a couple of songs are over-reachers. "No More" has foolish sound effects in the background, sounding like a combination of Flash Gordon and Tarzan. And "Rock 'n' Roll Contract" has a heavy-handed narration intoned over the melody.

Overall, however, "Say No More" is a stirring record, a surprising entry from a band which, by all accounts, should have died six years ago. Badfinger (with Tony Kaye on keyboards, Richard Bryans on drums and Glenn Sherba on guitar) are worth a second look . . . and more than a couple of listenings.


★
[Newspaper/Say No More] Chicago Tribune / The Atlanta Constitution (February 1981)
★
[Newspaper/Say No More] George Kanzler (syndicated by Newhouse News Service, March 1981)
★
[Newspaper/Say No More] Fort Lauderdale News (March 27, 1981)
★
[Newspaper/Say No More] The Morning Call (April 25, 1981)
★
[Newspaper/Say No More] Daily Press (June 26, 1981)
★
[Newspaper/Say No More] The Tampa Times (July 10, 1981)