Hey Rockers! We will be closing out 2018 (or will it be ringing in 2019??) with our December Camps gig at Bunkers on Saturday, January 5th from 3-7pm. We'll have four sweet bands:

The Rock Camp Experience - December Camps Gig
- The Madhatters (April Wine Tribute)
- Take It To The House ("The Rockin Blues" camp)
-
Breaking Badfinger
(Badfinger Tribute)
- So? (Peter Gabriel Tribute)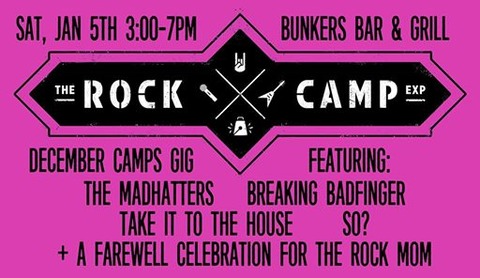 We will also have a very, very special goodbye and tribute to our Rock Mom, Denise.
Cover is only $5 but kids are FREE!
Limited parking is available at the Bunkers lot; additional parking is located at the ramp on the corner of Washington Ave & N 10th Ave.
These bands are working hard to give you an awesome show; let's give them the most awesome audience we can!