The Pacer: student newspaper of the University of Tennessee at Martin.
The Pacer (January 20, 1983)
Badfinger rocks the Oz (Jan 12) with old and new by Leslie Haywood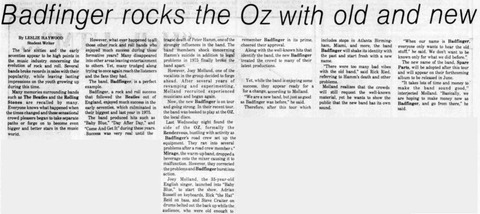 Joey: When our name is Badfinger, everyone only wants to hear the old stuff. We don't want to be known only for what we did before.
The new name of the band, Spare Parts, will be adopted after this tour and will appear on their forthecoming album to be released in June.
Badfinger / Oz Disco, Martin, Tennessee (January 12, 1983)
Joey Molland (g)
Adrian Russell (k)
Rick Reid (b)
Steve Craiter (d)
★
Badfinger / Brassy's Night Club in Cocoa Beach, Fl (Feb 6, 1983)