Record Mirror (March 23, 1974)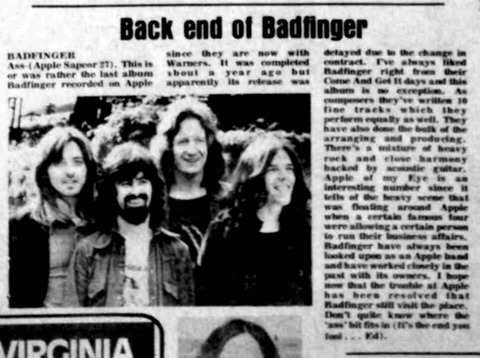 Back end of Badfinger
BADFINGER / Ass (Apple SAPCOR 27)
This is or was rather the last album Badfinger recorded on Apple since they are now with Warners.
It was completed about a year ago but apparently its release was delayed due to the change in contract.
I've always liked Badfinger right from their Come And Get It days and this album is no exception.
As corps they've written 10 fine tracks which they perform equally well.
They have also done the both of the arranging and producing.
There's a mixture of heavy rock and close harmony backed by acoustic guitar.
Apple of my Eye is an interesting number since it tells of the heavy scene that was flouting around Apple when a certain famous four were allowing a certain person to run their business affairs.
Badfinger have always been looked upon as an Apple band and have worked closely in the past with its owners.
I hope now that the trouble at Apple has been resolved that Badfinger still visit the place.
Don't quite know where the 'ass' bit fits in (it's the end you fool...).
★★★