Interview
/Giveaway: Lucifer's Friend and The Raz Band (July 1, 2019)
by Warren Kurtz
Goldmine also interviewed Joey Molland, the sole survivor of Badfinger, about his work on the new album #9 by The Raz Band, and the tour 'It Was Fifty Years Ago Today: A Tribute to The Beatles' White Album.'

BADFINGER'S JOEY MOLLAND is now also a member of The Raz Band on their new #9 album, led by guitarist Michael "Raz" Rescigno, along with Jim Manzo on bass and Jeff "Hutch" Hutchinson on drums.


Joey Molland:
I got a call to be on a tour for the 50
th
anniversary of The Beatles "White Album" with Christopher Cross, Todd Rundgren, Micky Dolenz from The Monkees, and that chap from Chicago, Jason Scheff. I just saw Micky with Mike Nesmith on tour and it was great. Everybody's learning their songs. I'll be doing Beatles songs and a couple Badfinger hits too. I wanted to do "Julia," but Jason will be doing that one. They want me to do "Dear Prudence." I'm going to do "Good Night," "Cry Baby Cry," "Revolution," and "Savoy Truffle." I chose those songs because I wanted to do something different from the "White Album," some lesser known songs, and do a great job on them because The Beatles did a great job on them. The guys from the Rain tour band will be backing us and that is a nice bonus because these guys have all these songs in the bag. They are received so well by audiences, so I think they will be a great contribution to the show.



It Was Fifty Years Ago Today - Tour 2019 -
A Tribute To The Beatles White Album feat. Christopher Cross, Todd Rundgren, Micky Dolenz, Jason Scheff and Joey Molland!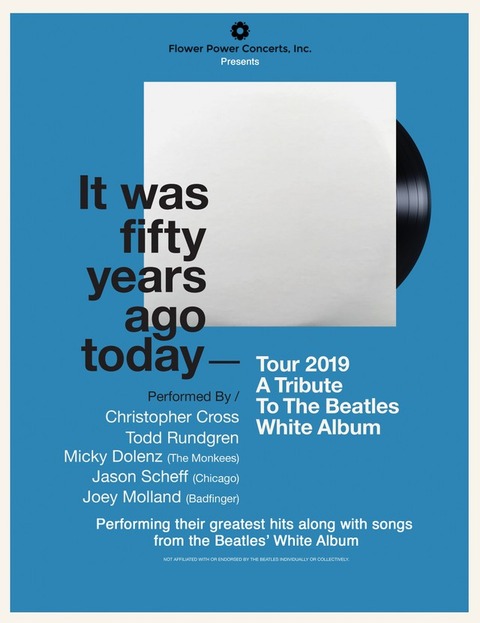 09/21 Atlantic City, NJ @ Golden Nugget
09/28 Akron, OH @ Akron Civic Theatre
09/29 Danville, KY @ Norton Center
10/1 St. Charles, IL @ Arcada Theater
10/2 Milwaukee, WI -@ Pabst Theater
10/5 Beverly, MA @ Cabot Theater
10/6 Concord, NH @ Capitol Center For The Arts
10/7 Orono, ME @ Collins Center For The Arts
10/8 Ridgefield, CT @Ridgefield Playhouse
10/10 Staten Island, NY @ St. George Theater
10/11 Boston, MA @ Berklee PAC
10/12 Westbury, NY @ Theatre @ Westbury
10/13 Morristown, NJ @ Mayo PAC
10/15 Glenside, PA @ Keswick Theatre
10/17 Red Bank, NJ @ Count Basie Theater
10/18 New London, CT @ Garde Arts Center
10/20 Washington, DC @ Warner Theatre
★
Monkees/Badfinger/Nazz Supergroup Gets Back to '68 by Touring Beatles' "White Album"