ApologetiX - You're Mad at What? (2017)
ApologetiX - You're Mad at What? / Pick It Up
Downloads Available for a Donation
Released in mid-September, our 17th single of 2017 spoofs two straightforward rock hits from the 70's and the 80's.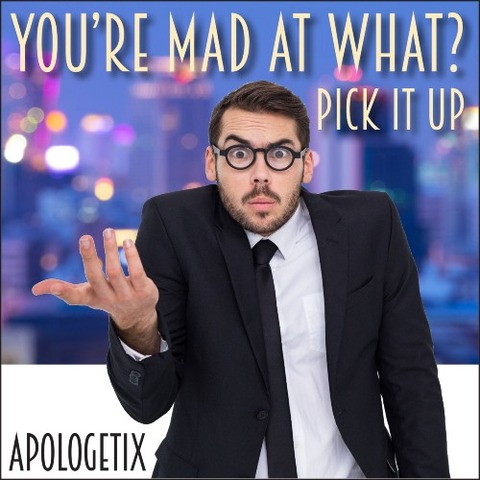 2017/09 Parodudes: You're Mad at What? / Pick It Up
You're Mad at What?:
No Matter What

-

Badfinger
We'll tell you straight up: there's no magic Christian formula for living a sinless life. That doesn't mean we shouldn't give it a try, but we won't reach perfection till it's over. In the meantime, seek God's guidance and forgiveness day after day, hold on to 1 Corinthians 1:8 and Philippians 1:6, and carry on till tomorrow. Better days await.

Pick It Up: Lick It Up - KISS
The Bible was given to us freely by God, and it'll give you a reason to live and show you how to live forever, but you have to take it off the shelf. The Word of God is alive, written not for the innocent only but for saint and sinner alike, and if you read it, it'll come back to you later like a boomerang. Get all you can take before they take it away from us.
ApologetiX /
Xit Ego Lopa
Our 50th CD, Xit Ego Lopa, was released in December 2017. It features 13 parodies from the 60's, 70's, 80's, and 90's.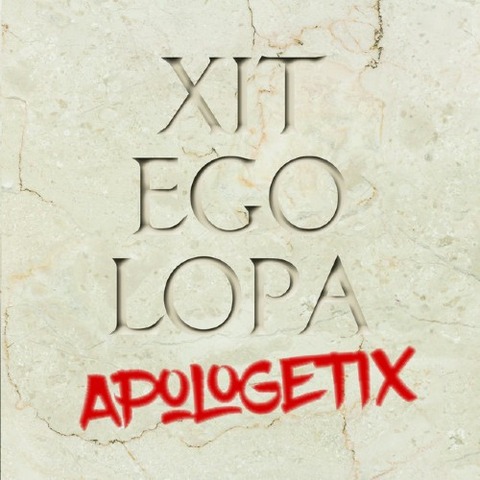 2017/11/20 Parodudes:680052 8. You're Mad at What? - No Matter What
01. Ha-Bakk - Get Back - The Beatles
02. No Exclusions - No Excuses - Alice in Chains
03. You Might Stink - You Might Think - The Cars
04. Show Us the Way - Go All the Way - The Raspberries
05. Man Born to Scale the Mountain - Man on the Silver Mountain - Rainbow
06. Free Indeed - T.N.T. - AC/DC
07. Nain - Name - The Goo Goo Dolls
08.
You're Mad at What
-
No Matter What - Badfinger
Parody of "No Matter What" by Badfinger
(Romans 7:15-25, 8:38-39; Philippians 1:6; 1 Corinthians 1:8, Psalm 57:2 138:8; John 6:37-40, 10:27-28; 2 Timothy 1:12; Ephesians 1:13-14)

09. Paranormal - Destroyer - The Kinks
10. Once You See Truth, You Can't Unsee It - What's the Frequency, Kenneth? - REM
11. You Made Me, So There You Have Me - You've Made Me So Very Happy - Blood, Sweat & Tears
12. Maybe Madonna - Lady Madonna - The Beatles
13. Known from the Beginning - Beginnings - Chicago
Note: Tracks 11-13 are live recordings, the same that were featured on our recent singles.
★
ApologetiX - Apologetics (2020) Come and Get It