ApologetiX
Christian Parody Band from Pittsburgh
ApologetiX - Apologetics (2020)
ApologetiX - Bartholomew / Apologetics
Downloads Available for a Donation
Released in mid-January, our second single of 2020 is brought to you by the letters A and B, although not necessarily in that order.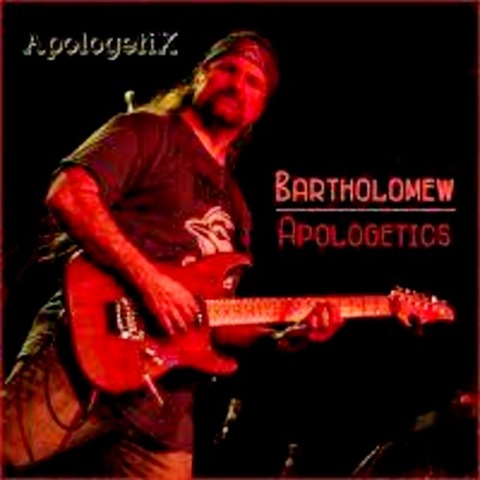 2020/01 Parodudes: Bartholomew / Apologetics
Bartholomew: Bark at the Moon
-
Ozzy Osbourne
You know the Apostles truly believed their hero was more than a miracle man the authorities had conspired to crucify. They were fearless in proclaiming the story of HIs resurrection and refused to let it die. Even when men like Bartholomew were skinned alive, they never recanted. The church Jesus founded was not going away.

Apologetics:
Come and Get It

-

Badfinger
We spent years flying around the country with a suitcase full of spoofs. Though we've gotten airplay on airwaves all over the world, we've never made a lot of money, but that's not the name of the game. No matter what people think about our parodies, we love the Bible, and we take it all seriously; we just don't take ourselves too seriously.
ApologetiX /
Alien Invasion
Our 58th CD, Alien Invasion, was released in March 2020. It features 12 parodies from the 60's, 70's, 80's, and 90's.
01. Mr. Uzziah - Mr. Blue Sky - ELO
02. Come On, I'll Lead - Come On Eileen - Dexys Midnight Runners
03. Flew Off the Handle - Too Hot to Handle - UFO
04. Stressin' Out - Steppin' Out - Joe Jackson
05. You Fleshly Thing - You Sexy Thing - Hot Chocolate
06. Book of Life - Walk of Life - Dire Straits
07. Temple Physician - Pinball Wizard - Elton John
08. The Ballad of Peter Plungin' Ahead - The Ballad of Peter Pumpkinhead - XTC
09. Bartholomew - Bark at the Moon - Ozzy Osbourne
10. Girl Got Religion - Girls Got Rhythm - AC/DC

11. Apologetics -
Come and Get It - Badfinger
Parody of "Come and Get It" performed by Badfinger and written by Paul McCartney
(1 Peter 3:15, 1 Corinthians 2:4-5, 2 Corinthians 11:1)

12. Glad It's Over - Glad All Over - The Dave Clark Five
★
ApologetiX - You're Mad at What (2017) No Matter What