TotallyMoney: The Big British Music Map by Kaizen
Click the image to open the full interactive version (via TotallyMoney.com).
http://www.thedrum.com/creative-works/project/kaizen-totallymoney-the-big-british-music-map
TotallyMoney.com has created a new interactive map of the UK, which shows the massive involvement the country has had in the world music scene, with classic rock bands like Black Sabbath through to boy band pop stars One Direction making up the £4.1bn contribution to the British economy.
Musicians come from every corner of the country, with Two Door Cinema Club hailing from the north of Northern Ireland and Mick Jagger repping the south east of England. And now you can see all these big names in one map, spanning over 200 artists and bands, and nearly 60 years of classic British music.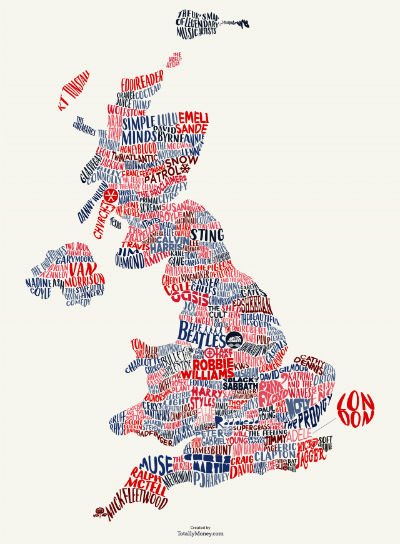 ★★