Omega Auctions the-saleroom.com
Auction date:14 Apr 2018 14:00 CEST
Lot 6
IVEYS - WALK OUT IN THE RAIN - APPLE 7" ACETATE
Estimation: 200 - 250 GBP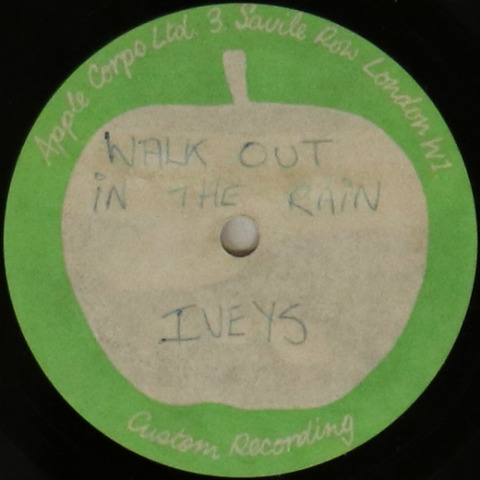 Unlikely to see again single sided 7" Apple 'Custom Recording' acetate from Iveys (pre-Badfinger) - and a different recording to the final studio version. This track was issued on Badfinger's 1970 LP Magic Christian Music with the title 'Walk In The Rain'. The playing surface is in clean Ex condition with just a couple of rather light and minor surface marks - somewhat unprecedented for an acetate recording of this age. With a clean and well presented label. Machine stamped 945AA on the non-playing side. A beautiful tune, this early recording features Pete Ham effectively sounding live; there are slight changes in tempo that would be changed in the final version - this version did not appear until the 2010 reissue.
Lot 8
BADFINGER - BELIEVE ME - APPLE 7" ACETATE
Estimation: 150 - 200 GBP
Believe me, you're are very unlikely to come across this single sided 7" Apple acetate again! Released with the 'Custom Recording' labels. In neat VG+ condition with only a couple of rather minor surface/hairline markings - these are certainly never of a heavier nature. The labels are nice and clean with a little discoloration.
★★★