TracksAuctions
Beatles And Rock 'n Roll Memorabilia Auction. March 2016 (#3) 03/04/2016 3:00 PM GMT CLOSED!

Lot 112 Bob Wooler 1965 The Masterminds Joey Molland ALO Limited Recording Contract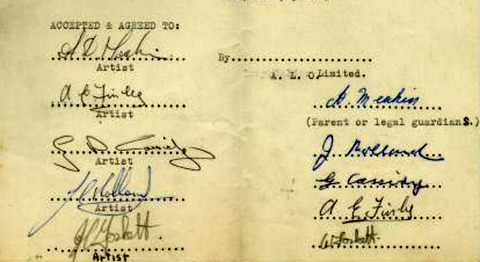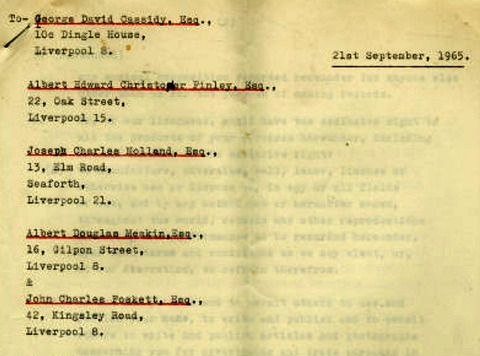 An original ALO Limited recording contract for The Masterminds. The six-page contract, dated 21st September 1965 agrees that The Masterminds will commit to a one year recording deal including four singles. One of the members of the group, Joey Molland, would go on to form Badfinger. The document has been hand-signed by all five members of the group.

The contract is from the collection of the Cavern Club compère Bob Wooler. Bob was a pivotal figure in the Merseyside music scene of the early sixties. He introduced The Beatles countless times during their 292 appearances at The Cavern and was a great ambassador for the group. The lot is accompanied by a letter of authenticity on Tracks Ltd. letterhead confirming that this item is from the collection of Bob Wooler.

The contract measures 20cm x 33cm (8 inches x 13 inches). It has been folded in half leaving a vertical crease down the middle. There is some wear to the crease line and light wear to the edges. The condition of the contract is very good.
Lot closed:03 Apr 2016 15:00 BST
Estimate: 100 GBP - 300 GBP
Winning bid:100 GBP
★★★