Badfinger
,
Rick Wakeman
- Come & Get It (September 2020, Cleopatra)
2020/09/21 Cleopatra Records: Come & Get It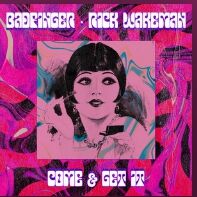 Classic Rock Legends BADFINGER Team Up With The King Of Keyboards RICK WAKEMAN For A Very Special Rendition Of The Paul McCartney-Penned Hit "COME & GET IT!"
by glassonyonpr
Los Angeles, CA – Joey Molland's Badfinger has been experiencing quite the career revival recently with artists ranging from indie rock icon Matthew Sweet to Jethro Tull's Ian Anderson participating in exciting new versions of Badfinger's extensive catalog of hits. And now comes one of the biggest hits Molland & company ever recorded – the Paul McCartney-penned pop classic "Come & Get It" reinvented here with a superb contribution from famed piano/keyboard player Rick Wakeman! With Wakeman's special touch, this tune takes on a whole new life with added melody and bounce, and although Badfinger guitarist/bassist Tom Evans originally sang lead on the 1969 version, Molland ably takes over vocal duties.
The new version of the song, which is available now as a digital single and via streaming services, is built around archival vocals that founding Badfinger member Joey Molland recorded in the early 1990s.
The Best of Badfinger 1994 featuring Joey Molland - Come and Get It (1994)
★
Badfinger · Rick Springfield - Love is Gonna Come at Last (January 2021, Cleopatra)
★
Badfinger, Sonny Landreth - Suitcase (December 2020, Cleopatra)
★
Badfinger, The Legendary Pink Dots - Midnight Caller (October 2020, Cleopatra)
★
Badfinger, The Buckinghams feat. Carl Giammarese - I Don't Mind (August 2020, Cleopatra)
★
Badfinger, Ian Anderson, Terry Reid, Manchester String Quartet - Day After Day (July 2020, Cleopatra)
★
Badfinger, Matthew Sweet - Baby Blue (May 2020, Cleopatra)
★
Badfinger / No Matter What - Revisiting the Hits (March 26, 2021 Cleopatra)
★
The Best of Badfinger 1994 featuring Joey Molland