In den Kellern von Liverpool
(1964 by Werner Prym and Kurt Schraudenbach for German broadcasting company WDR [first broadcast 1965.03.14])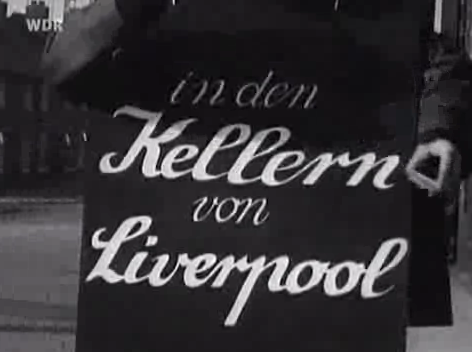 The Masterminds の母体は、50年代末の The Dingle Dices
The Dingle Dices late 50's
Dougie Meakin, guitar 1945年生
John Mahoney
Tony Evans
Roy Hall, washboard
The Dingle Dices -1961
Dougie Meakin, guitar
Tommy Meakin, bass
Harry, guitar
Bobby Scott, drums
The Dingle Dices 1961-
Dougie Meakin, guitar
Harry, guitar
Bobby Scott, drums
George Cassidy, bass
Clay and the Classics
Frank (Clay) Campbell, vocals
Dougie Meakin, guitar
Harry, guitar
Bobby Scott, drums
George Cassidy, bass
ここで再編成か?
The Mindbenders
Dougie Meakin, guitar
George Cassidy, bass
Johnny Jay Rathbone, drums
Brian Slater, guitar
Manchester の 同名バンド The Mindbenders (Wayne Fontana の backing group) が有名になってしまったので、バンド名を The Masterminds に変更。
The Masterminds 1964
Dougie Meakin, guitar
George Cassidy, bass
Johnny Jay Rathbone, drums
Brian Slater
, guitar
このメンバーの時、German documentary の
In den Kellern von Liverpool
(38分) を収録。 前半はメンバー4人それぞれの日常生活風景など。George Cassidy が主人公扱い。
In the cellars of Liverpool
The Beatles are gone - the Beat has remained
Liverpool is not only home to the Beatles, but a whole Beat movement.
Why does this sound could spread just in Liverpool? He has done, what changes?
These and other questions will Schraudenbach Kurt and Werner Prym answer in their film. (03.14.1965)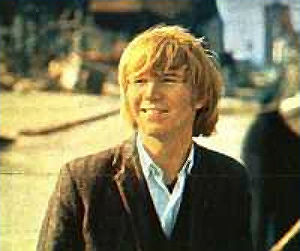 George is a bass guitarist in Liverpool beat group Masterminds. His parents believe that these employment kept him from becoming delinquent.
最後の方に Cavern で演奏する The Escorts (featuring Terry Sylvester) も出てくる。 Joey 加入後ならなぁ とか、Tom のバンドを選んでいればなぁ とか思ってしまう。 最初と最後のクレジット場面のサンドイッチマンは Dougie Meakin の姉の夫だそうです。
初放送は撮影の翌年、1965年3月14日。 その後も1966年7月2日、1967年3月29日と再放送され、最近も数年ごとに再放送されているようです。
Brian Slater (後 Gary Walker & The Rain のroad manager として来日) と Dougie Meakin (後 イタリアで成功。日本アニメのイタリア版主題歌をたくさんやっている)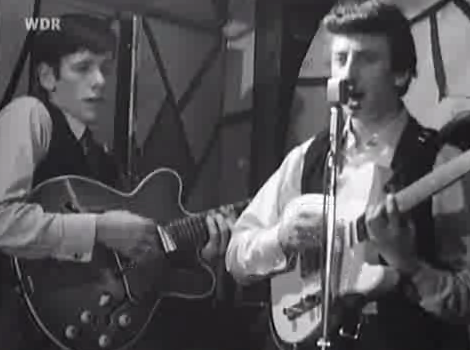 Brian Slater と George Cassidy (後 The Fruit Eating Bears を経て The Beechwoods)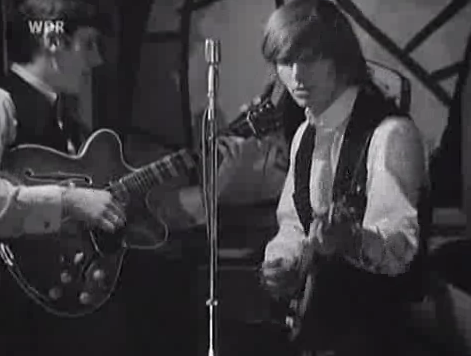 Johnny Jay Rathbone (後 The Almost Blues を経て、いろんなバンドを渡り歩く。 1990年代には Karl Terry and the Cruisers にいた)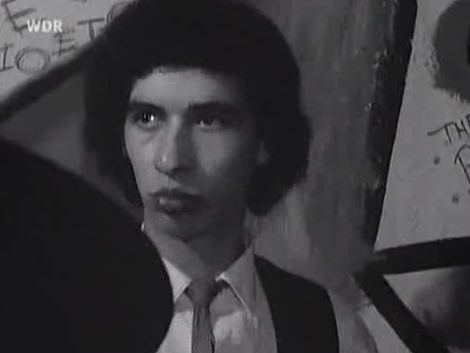 Pete Clarke (The Escorts 後 Badfinger) 27分過ぎに The Escorts の演奏風景あり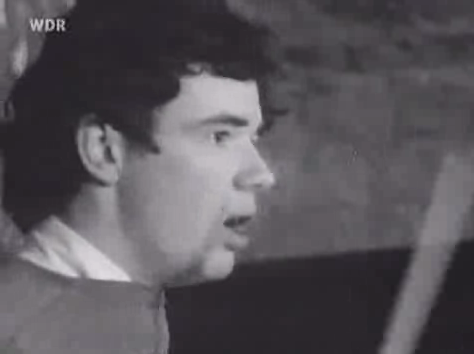 The Masterminds
Dougie Meakin, guitar
George Cassidy, bass
Johnny Jay Rathbone, drums
Joey
Molland
, guitar 前任の Brian Slater は、 Gary Walker & The Rain 来日時の road manager です。 Joey がRain時代にマイクとギターを接触させて感電した時、助けてくれたのも Slater 。
The Masterminds
-1966
Dougie Meakin, guitar The Motowns へ
George Cassidy, bass The Fruit Eating Bears へ
Johnny Jay Rathbone, drums The Almost Blues へ
Joey
Molland
, guitar The Fruit Eating Bears へ
Chris Finley, keyboards The Fruit Eating Bears へ 2011年には一時 The Merseybeats にもいた
ここに
The Masterminds
の写真があります。
The Masterminds - She Belongs To Me [Bob Dylan]
The Masterminds - Taken My Love [Dougie Meakin - George Cassidy]
★★★★★