[
Interview
] The Stories Behind Badfinger's Straight Up album with Joey Molland (April 15, 2018)
http://www.sfbayareaconcerts.com/2018/04/the-stories-behind-badfingers-straight.html
I
'd Die Babe

I had most of the lyrics, but a few of the lines were iffy to me, so I really wasn't going to do it. It was George Harrison who really liked the song. He thought it was great—he thought it would be a single for us. So he sat down and worked on the lyrics with me. He was the guy who said, "What about 'you make my daisy grow high?'" George played those low guitar licks—those are his. He and I played acoustic on the backing track, and of course Pete played the lead guitar solo and keyboard on that. But about the song itself: It's just a fun little song with a nice groove to it. I haven't really done that song on stage since back in the day. We do it now, and it really does pick the record up now—doesn't it?
Day After Day
He (
Leon Russell
) was incredible. He listened to the song once in the control room, went down into the studio, played it one time and then recorded the piano part. He heard the song three times and that was it. Absolutely gorgeous, absolutely beautiful.


Suitcase
You know, he played guitar on "Suitcase" too. Yeah, a couple of days later he came by and we were doing "Suitcase" where George did that arrangement on it. Leon was listening to it and said to me, "I've got an idea for the guitar part, do you mind if I play it?" And I said, "No of course not." And I gave him my guitar. So you know, in the second verse, that little stabby-accent thing? That's Leon Russell playing that. He just put it in there on the other side of the beat. Just like that. He came up to me at the Bangladesh concert and said, "You wrote that song 'Suitcase', didn't you? That's a fantastic song, man?" Could you imagine Leon Russell telling you one of your songs was fantastic?
★★★★
Leon Russell (April 2, 1942 - November 13, 2016)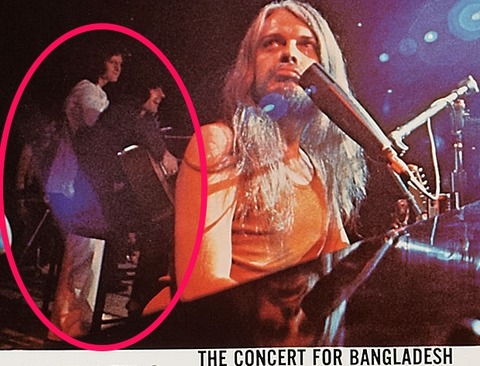 Leon Russell, Rock Songwriter and Musician, Dies at 74
http://variety.com/2016/music/news/leon-russell-dead-dies-1201917000/
His piano playing can notably be heard on Badfinger's "Day After Day."
★★