http://www.wingspan.ru/bookseng/encyclopedia/b.html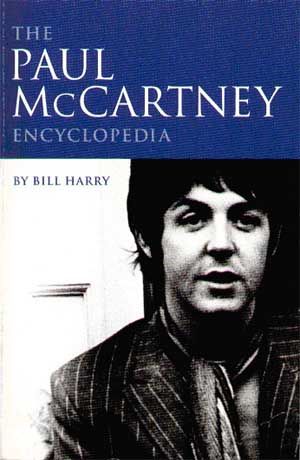 Badfinger
A group who were to become the most successful group on the Apple label, next to the Beatles. They were originally called the Iveys and were managed by Bill Collins, father of actor Lewis Collins, who had once worked with Mike McCartney in a Liverpool hairdressing salon. Bill had also known Paul's father Jim McCartney from the days he played in dance bands in Liverpool. Mal Evans, who also knew Collins, invited him to a Beatles recording session for 'Within You, Without You'. At Abbey Road Studios, Collins met Paul and told him about his group the Iveys. Paul said he'd be interested in hearing more about them.
Collins didn't follow through on the invitation. However, when Evans heard that the group wrote their own music he took a tape of them to Apple.
They comprised two members from Liverpool and two from Wales and the line-up at the time was: Pete Ham, vocalist, guitarist, pianist; Tom Evans, rhythm guitarist; Mike Gibbons, bass guitarist and Ron Griffiths on drums.
Mike Berry, who had recently joined Apple Publishing from Sparta Music, actually knew the group and had wanted to sign them to Sparta the previous year. He said, 'I remember telling my Apple publishing partner, Terry Doran, that the Iveys were going to be our first signing. I had actually given Paul McCartney my personal Iveys demo tape, but Paul said he didn't see anything in it. I'd planned to get him another one in the near future.'
Evans brought in the new tape and played it to Paul, Derek Taylor and Peter Asher.
Paul phoned Berry and said, 'Have you heard the new Iveys tape? It's fucking great.' Mike said, 'That's the sign of a good publisher, Paul. To see it before anyone else does.'
Paul had been impressed by a number called 'Knocking Down Our Home' and wanted to hear more of their work, so another demo reel was brought in. There were a few problems. Each Apple signing had to be approved by all four members of the Beatles, although Paul had managed to get Mary Hopkin signed, George had decided to sign up Jackie Lomax and Peter Asher was determined to sign James Taylor -all without necessarily having all four Beatles agree. Asher was to say, 'John Lennon was scathing about everybody. He would say "Who needs James Taylor or the Iveys when you have true artists like Yoko Ono?"'
Mal Evans was determined to secure a contract for them with Apple and brought in a fourth tape and on 23 July 1968 they signed to the label and made their debut with a Tom Evans composition 'Maybe Tomorrow'.
In the meantime, Paul had been asked to write the score for a film The Magic Christian which starred Peter Sellers and Ringo Starr.
At the time the Beatles were busy recording Abbey Road, He arranged a meeting with the Iveys saying that he had been asked to write the music for the film and was willing to give them a song he had written for it for them to record. The number was 'Come And Get It' and Paul made a demo of the number for them to listen to and he recorded them performing it. He then asked them to take over the assignment for The Magic Christian and write the other numbers themselves - and he also recorded them in the studio, advising them and playing some of the instruments. One of the numbers, 'Crimson Ship', contained references to Paul and the Beatles.
Prior to the release it was felt that the Iveys had become too associated with the Merseyside scene and a new name was sought. They thought of names such as Hyena's Nose, the Old, the Glass Onion and Fresh, while Paul suggested Home and John Lennon suggested Prix.
Eventually, Mal Evans remembered 'Badfinger Boogie', a working title for Paul's composition 'With A Little Help From My Friends' and the group were dubbed Badfinger.
Gibbons had left the band, so Evans then took over on bass. They had to find a replacement. The members wanted Scottish guitarist Hamish Stuart of Marmalade to join them and Stuart was interested, but his manager insisted that they would have to pay £10,000 if he was to leave Marmalade, so they looked elsewhere and eventually settled on another Liverpool guitarist, Joey Molland.
Many years later, Hamish Stuart was to join Paul's band.
Despite the success of their hits 'Come And Get It', 'No Matter What', 'Day After Day' and 'Baby Blue', Apple were encountering problems with the advent of Allen Klein. Paul was absent from the offices and had gone to Scotland where he was to begin recording his solo album; Peter Asher left the company, as did his signing James Taylor. Mary Hopkin was also to leave Apple.
On leaving Apple, Badfinger suffered immense financial difficulties, despite writing the international hit 'Without You' and both Pete Ham and Tom Evans were to hang themselves.


★★