TracksAuctions
The White Album Auction (2013) (#1) 01/12/2013 5:00 PM GMT CLOSED!
Lot 111 Badfinger 1972 No Dice Fully Signed LP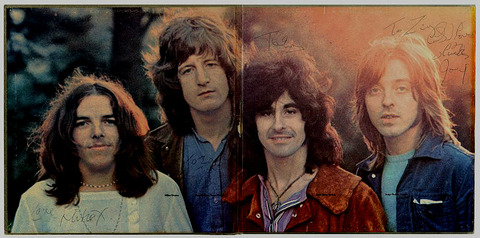 An original USA sleeve from the Badfinger LP 'No Dice' that has been signed by the group in a blue pen on the inside gatefold. Mike Gibbins has signed his first name only and added 'Love' and 'x'. Pete Ham has signed his full name and added 'To Zig Thanks' above his signature. Tom Evans has signed his full name with no dedications. Joey Molland has signed his first name only and added 'To Zig lots of love always' above his signature.

The signatures come with an letter from the original recipient which reads as follows:
"I use to work at the Paramount Theater (doing Business as "The Woodrose Ballroom") in the early 70's and in Jan. 1972 I heard that the club had booked Apple Records Band Badfinger to appear on Feb. 3rd. Now on their 3rd US tour. This would have been just four months after their appearance at Ravi Shankar/George Harrison's all star Benefit concert for Bangladesh in NYC which I also attended. My boss at the Woodrose knew I was a massive fan of this band and let me work back stage for this show. I let them in as they arrived with their equipment and roadies at the stage door. Also I made sure any of there (sic) dressing room requests were in place. I hung out with the band most of all the non performing time. They were such nice guys. As they arrived, I chatted with Pete Ham at length mostly. Also with drummer Mike Gibbons. Tom was friendly but kept mostly to himself. Joey was the diva of the band. I sensed Tom was miffed with Joey about something. All the band members obliged me with nice autographs right after their sound check. They all signed my "No Dice" LP which had just been released 3 months to the day earlier. Badfinger were booked to headline with The Elves then BTO (Bachman Turner Overdrive). BTO didn't show so Badfinger instead opened the show at 7pm, then The Elves performed, (I think the band Pure Prairie League filled in for BTO). and once again Badfinger played closing the show. All did short sets. I was over the moon to be able to hear and see them, my 2nd most favorite band in the world , perform sound check and 2 live sets as well!!! I watched first show from the balcony (closed to the public) a(sic)taped the show on a small tape recorder in stereo."

The sleeve has areas of discolouration and scuffing over all sides. There is a thin line of discolouration on the right hand side of the inside of the gatefold. The sleeve has a 14cm (5.5 inch) seam split along the top edge of the right side. Condition is very good minus.
This lot is accompanied by a letter of authenticity from TracksAuction.com.