Bidding for the Marvels of Modern Music Auction opens Dec 5 & ends Dec 12, 2019

#5300 - Badfinger 'No Matter What' Acetate
MB $200
Estimate: $800+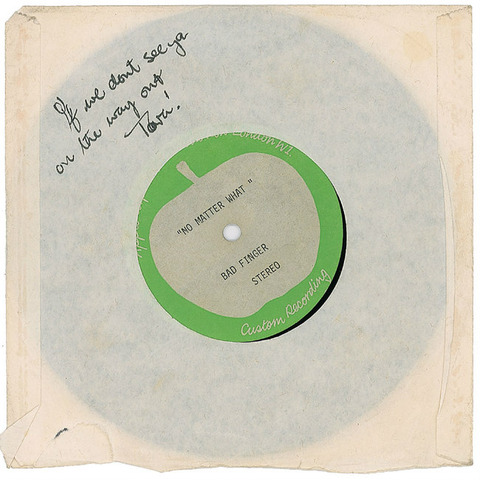 Single-sided 7″ Apple Corps Ltd. stereo acetate of the 1970 Badfinger song 'No Matter What,' featured on the group's 1970 album 'No Dice.' The Apple Corps label is filled out in type: "'No Matter What,' Badfinger, Stereo." In fine condition, with wear to the sleeve. Accompanied by a certificate of authenticity from Tracks.
---------------------------------------------------------
Omega Auctions
Auction Date: February 6, 2018 11:00 GMT
Lot 177 Badfinger - No Matter What - Apple 7" Acetate
Estimate: 150 - 200 GBP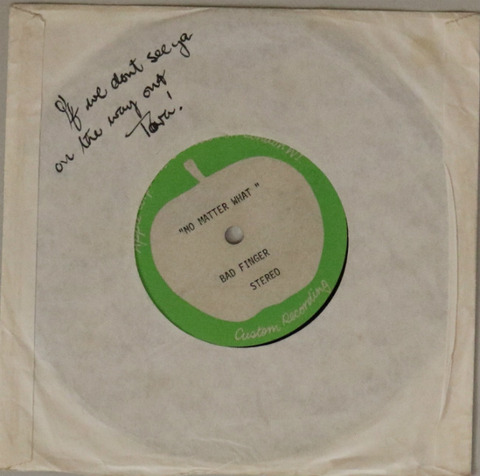 No matter what, don't miss out on this 7" single sided Apple 'Custom Recording' acetate! The playing surface is in well presented Ex condition with only a couple of extremely minor, light and faint surface marks and a little 'residue' to the lacquer - this is not a major feature and playback should not be affected in any major way. Lovely clean printed label. With a message from the band? on the paper sleeve which reads: "If we don't see ya on the way out Tara!"
★★★