RARE 1972 Badfinger signed/autographed album book page - Tom Evans / Pete Ham +2
Starting Price
US $199.99
Apr 28, 2019 8:55PM PDT
Ended: May 5, 2019 , 8:55PM PDT
Sold for:US $761.00 [ 28 bids ]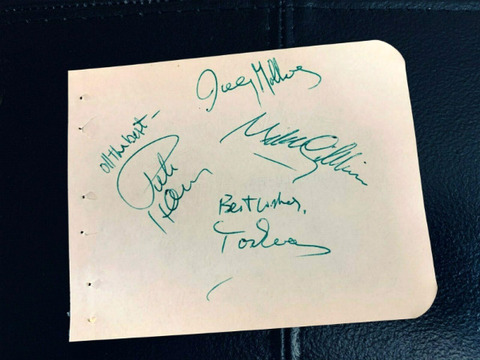 SUPER RARE autographs of Badfinger, obtained in person, signed in green Bic, in Los Angeles in 1972. Group included Tom Evans (deceased 1983), Pete Ham (deceased 1975), Mike Gibbins (deceased 2005), and Joey Molland.
The group played a series of concerts at the Whiskey-A-Go-Go, and many record people were there, including my uncle's station, who was playing "Day After Day' in heavy rotation at the time at KRUX. He said the band was ready for a huge breakout, and destined for greatness. It wasn't to be - tragedy would strike within a few years, and although many though Tom and Pete were the next John and Paul, they would soon both be gone.


Our daughter is heading off to college, and as we're getting ready to pay for a few university expenses, we're reluctantly letting this treasure go.
This is from our private collection, personally received by family - Please only bid if you are a serious bidder - your bid is binding, and I want to make sure this goes to a wonderful home, with a responsible bidder - I'll make sure I start the bidding at a reasonable amount, as I know everyone is looking for a great value. And, absolutely, I will make sure it is WELL packaged, hence the shipping charge. Best of luck!
★
[eBay] 1972 Badfinger AUTOGRAPHED album book page 1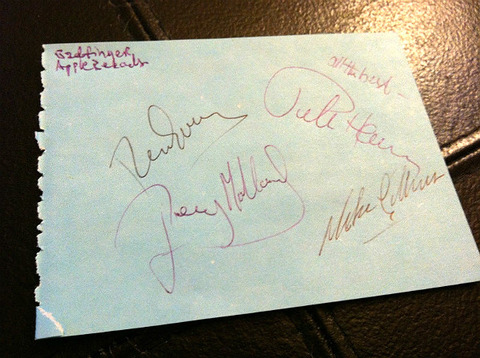 Starting Price
US $299.99
Jun 7, 2017 2:20PM PDT
Buy It Now US $399.99
Ended: Jun 12, 2017 , 10:42AM PDT
Sold for:US $399.99